Huntington Lake
At an elevation of nearly 7,000 feet, Huntington Lake draws many summer visitors who want to escape the scorching valley temperatures and enjoy the temperate, mountain air along with all the pleasures of a large, recreational lake. Some water skiers and wake boarders donn wetsuits while others thrive in the 60 degree water. Steady winds make Huntington Lake a popular place for sailors, while good fishing attracts anglers. Quieter than its neighbor, Shaver Lake, Huntington makes a restful destination for a relaxing summer vacation.
Huntington Lake is located 60 miles northeast of Fresno, midway between Yosemite and Kings Canyon National Parks. It is owned by the Southern California Edison Company, which operates a number of large reservoirs in the area.
Boating
Huntington Lake is one of California's best small mountain lakes for boating. A public boat launch facility is located on the northeast side of the lake and there are private ramps at several of the marinas. Sailors love to come to Huntington Lake because of its steady afternoon winds. Because of the wind and the chilly water, water skiing is not as popular as at lower elevation lakes.
Marinas
Huntington Lake has several marinas which offer launch ramps, mooring, and boat rentals. Some of them focus on renting fishing boats and sailboats while others offer personal watercraft and pontoon boats.
Fishing
Huntington Lake is not known as a famous fishing destination, but it has plenty to offer trout and kokanee anglers. Both rainbows and browns can be taken from the lake. Skilled shore fishermen do almost as well as those in boats.
Campgrounds
Huntington Lake has 7 Forest Service campgrounds, mostly of them along the north side of the lake. Many campsites are either lakeside or with nice lake views. Several of the resorts at Huntington offer RV camping as does the nearby China Peak Ski Area.
Lodging
Huntington Lake has several excellent resorts, all of them offering individual cabins at moderate prices. Some of them were originally built in the early 20th century and although they have been upgraded, they still retain that rustic, old-time charm. Most are lakeside or within easy walking distance of the water.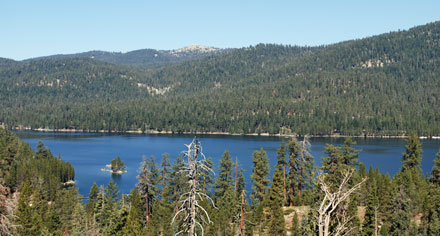 Scenery
Huntington Lake is known for its spectacular sunsets. Set between high, thickly wooded mountains, the lake feels as if it is a hundred miles from the rest of the world. Most of the people who frequent Huntington appreciate its slower pace and friendly atmosphere.