Pinecrest Lake Boating
Pinecrest Lake welcomes all kinds of fishing boats, float tubes, sailboats, paddleboards, kayaks, and canoes. Because jet skis and waterskiing are not permitted on the lake, anglers enjoy quiet waters for fishing. There is a 20 MPH speed limit on the lake.
On This Page
The single marina and launch ramp serve the small lake well. On summer weekends the ramp can become busy, but waiting times are usually short.
Pinecrest Lake Marina - 2017
Pinecrest Lake Marina is located at the west end of the lake.
(209) 965-3333 Website: Pinecrest Lake Marina
Open late April through mid-October
Marina:
Summer Hours: 6:00 AM - 8:00 PM, check website for hours other times of year
Launch Ramp: Free
Facilities: Basic Fishing Supplies, Boat Rentals, Parking
Docking and Slips: $15 per night, $90 per week, $225 per month, Seasonal $325 - $450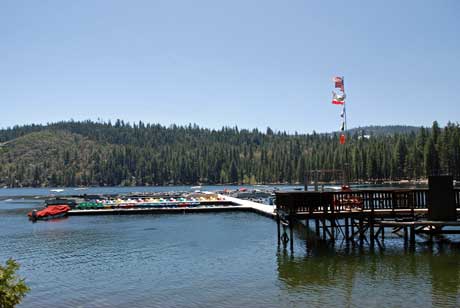 Pinecrest Lake Marina Boat Rentals - 2017
Boat
Length
Seats
1 Hour
2 Hours
Half Day
Half Day is from 6:00 AM to 12:30 PM or 1:00 PM to 7:30 PM. Special Prices for some early morning or late afternoon rentals or combinations of Pinecrest Resort lodging and boat rentals.
See full price list: 2017 Pinecrest Lake Marina Rates Prices subject to change.
Pedal Boat
~7'
2-3
$15
$20
$40
Kayaks
1-2
$15- $20
$20- $25
$40- $50
Junior Party (Pontoon) Boat
10
NA
$95
$235
Party (Pontoon) Boat
15
NA
$110
$270
Sailboat
14'
2
NA
$40
$80
Motorboat
5 (or 625 lbs.) Max
NA
$40
$80
Masrine Services
Tuolumne County Marine
1269 Mono Way, Sonora, CA
(209) 532-3112

Sonora Marine
20469 Hazel Ave., Soulsbyville, CA
(209) 532-2431

Bev's Marine Service
7260 O'Byrnes Ferry Rd., #A, Copperopolis
(209) 785-8500
Located at Lake Tulloch

Master Marine
15883 N. Hwy 59, Snelling, CA
(209) 563-6207

Best Marine Services
2213 East F St., Oakdale, CA
(209) 845-1000

West Marine
1810 Field Ave., Stockton, CA
(209) 464-2922




Sipes Marine
14501 Las Moras St., La Grange, CA
(209) 852-2653

Bob's Marine
1608 Oakdale Rd., Modesto, CA
(209) 551-2165
Bob's Marine