Lake Oroville Boating
Lake Oroville's broad surface and winding inlets provide an exciting playground for pleasure boaters, sailors, water-skiers, and houseboaters. Bass anglers ply spread across the lake in search of the perfect spot to land that trophy fish. Warm summer temperatures make the lake a popular vacation destination.
On This Page
Although the drought in California lowered Lake Oroville's water level considerably, several recent good years of rain have brought the lake back to its prime.
Lake Fees
Entrance Fee: $8
Boat Launch Fee: $5
Lake Oroville Marinas
Lake Oroville Marina
Lime Saddle Recreation Area, Lake Oroville, CA
12 Miles north of Oroville, Off Highway 70, take Pentz Road
1-800-255-5561 Website: Lake Oroville Marina
Marina:
Launch Ramp
Dock: Overnight Moorage, Slips
Facilities: Fuel dock, Store, Vault Toilets, Pump out Station, Boat Shop
Lake Oroville Marina Boat Rentals
Boat
Length
Seats
Hour
Day
There is a two hour minimum on all boat rentals. Fuel is extra.
Open Bow Ski Boat
19'
7
$70
$375
Patio Boat with Canopy
22'
8
NA
$175
Deck Cruiser
26'
8
$60
$325
Patio Pontoon with Bathroom, Sun Deck
44'
15
NA
$495
Houseboats
50'-70'
8-12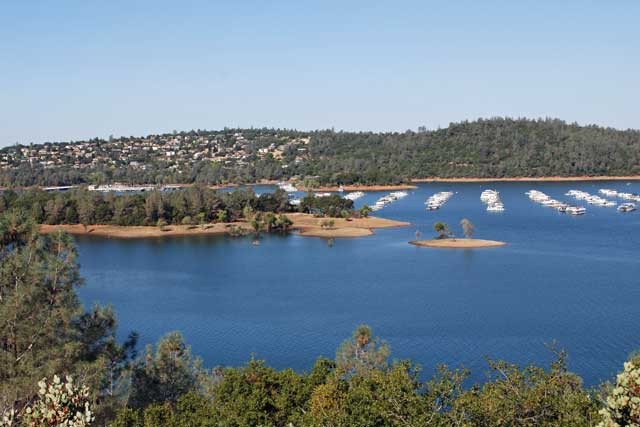 Bidwell Canyon Marina
South Shore of Lake Oroville
(530) 589-9175
Website: Bidwell Canyon Marina
Marina:
Launch Ramp
Dock: Overnight Moorage, Slips, Boat Storage
Facilities: Bar and Grill, Store, Fuel Dock, Propane, Boat Maintenance Supplies
Boat Rentals:

Deck Cruiser - $195 for half day, $325 for full day, $1750 per week
Patio Pontoon - $495 per day, $2,875 per week
Open Bow Ski Boat - $240 for half day, $375 per full day, $2050 per week
Boating Information
Overnight Boating
Overnight boating is permitted for boats with self-contained sanitary facilities; all waste and water outlets must be sealed. Sanitation stations available around the lake.
Boat Mooring
Mooring is permitted except where posted. No-mooring areas include both marinas and the area south of a line between Potter point and the Highway 162 Bridge. Overnight camping on shore is only allowed at designated campgrounds.
Water Skiing
Water skiing is not permitted in narrow upper reaches of Lake Oroville's tributaries.
Boating Hazards
Floating logs and other debris can present a hazard, especially during the winter in spring. Changing water levels can create new hazards, especially during summer and fall draw downs.
Oroville Launch Ramps
Lake Oroville Boat Launch Ramps

| | Lanes | Facilities | Fee | Closes when lake is drawn below |
| --- | --- | --- | --- | --- |
| Bidwell Canyon | 3-7 | Marina, Store, Restrooms | $5 | 680' |
| Lime Saddle | 5 | Vault Toilets Marina | $5 | 775' |
| Loafer Creek | 2-8 | Restrooms | $5 | 775' |
| Spillway | 1-12 | Restrooms | $5 | 685' |
| Enterprise | 2 | | $5 | 820' |
Lake Oroville Car-Top Boat Launch Sites

| | Location |
| --- | --- |
| Dark Canyon | North Fork, Dark Canyon Road off Hwy 70 |
| Nelson Bar | West Branch, Pentz Road off Hwy 70, near Lime Saddle |
| Foreman Creek | Foreman Cr. Rd., off Hwy 162 |
| Stringtown | South Fork, Stringtown Rd. |
| Vinton Gulch | Off Cherokee Rd., near West Branch Bridge |
Marine Services
A & M Prop Repair
2669 Andy Mountain Road, Oroville, CA
(530) 533-9482

Lake Oroville Boat Repair
3428 Pentz Road, Paradise, CA
(530) 877-1838

Bidwell Boat Repair Shop
801 Bidwell Canyon Road, Oroville, CA
(530) 589-0969

John's Marine
3380 Olive Highway, Oroville, CA
(530) 534-8300
Website: John's Marine

Wilson's Paradise Marine
5368 Clark Rd., Paradise, CA
(530) 872-2617

West Marine
4445 Granite Dr. #501, Rocklin, CA
(916) 632-9140
or
9500 Micron Ave. #116, Sacramento, CA
(916) 366-3300