Lake Edison Boating
With a 15 MPH speed limit Lake Thomas A. Edison is popular with anglers in small fishing boats along with adventurers in canoes and kayaks. Unpredictable winds are not conducive to sailing and can sometimes be a hazard to unwary boaters.
On This Page
The steep, narrow road leading to Lake Edison over Kaiser Pass is not advisable for large trailers, but small fishing boats in tow can be brought over the road.
Vermilion Valley Resort
Vermilion Valley Resort is located on the west end of Lake Edison, north of the dam.
(559) 259-4000
Website: Vermilion Valley Resort
Resort Facilities Various Accommodations, Dining, Store, Water Taxi, Transportation Service
For information about lodging at Vermilion Valley Resort, see Lake Edison Lodging
Marina Services:
Lake Ferry: June - September
Normally departs Resort at 9:00 AM and 4:00 PM, 30 minutes to east end of lake; Departs east end of lake at 9:45 AM and 4:45 PM
During periods of low water smaller boats are used with more frequent trips between 8:00 AM and 10:30 AM and again between 3:00 PM and 5:00 PM.
$12 one way, $21 round trip
Boat Rentals:
Vermilion Valley Resort Boat Rentals
Boat
Length
2 Hours
Half Day
Full Day
Fishing boats include fuel, $10 per hour after minimum 2 hours. May keep boat overnight for $10 more. (Rental boats are not allowed on the lake from 7 PM to 7 AM due to lack of running lights.)
Half Day is from 1 PM to 7 PM, Full Day is from 7 AM to 7 PM.
Fishing Boat
12' - 14'
$25
$45
$65
2 Person Kayak
NA
$35
$55
Lake Edison Launch Ramp
There is only a single launch ramp at Lake Thomas A. Edison. This free, paved, public ramp is located on the southwest side of the lake immediately north of the dam.
Nearby Lakes and Facilities
Portal Forebay
Portal Forebay is a small 20-acre lake built in 1956. It serves as a holding forebay for the Portal Power House which is located at Huntington Lake.
Portal Forebay is along the Kaiser Pass Road, midway between Florence and Huntington Lakes at an elevation of 7,180 feet. Kayaks, canoes, and float tubes are the recommended watercraft for this small fishing lake. There is no fee to use the lake.
Fishing is good for brook and rainbow trout, which are regularly stocked in the lake. A trail leading around the lakes makes for easy access. This is a good fishing destination for children with open, gently sloping banks. There is a campground adjacent to the lake and another nearby.
Ward Lake
Ward Lake (shown below) is a pretty little mountain lake along the road leading in to Florence Lake. Ward Lake is only 3 acres, but it offers a wonderful place to camp, hike, and fish. There is a campground next to the lake with 17 campsites.
This small lake is perfect for canoeing, kayaking, and fishing from float tubes. Rainbow and brook trout are regulary stocked in the lake.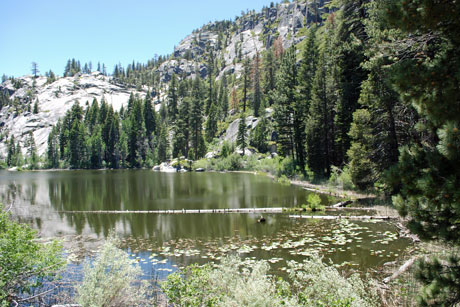 Marine Services
Rancheria Enterprises
Huntington Lake Rd, Lakeshore, CA
(559) 893-3234
Marina, Auto Garage, Marine Mechanics
Rancheria Enterprises

Sierra Marina
45795 Tollhouse Rd., Shaver Lake, CA
(559) 841-3324
Marina, Outboard Motor Mechanics, Other Repairs
Sierra Marina

John's Mobile Marine Service
Fresno, CA
(559) 264-9600
John's Mobile Marine Service

Ron's Marine
2782 N Sunnyside Ave, Fresno, CA
(559) 292-6370
Ron's Marine

Clovis Marine
2475 N. Fordham Ave., Fresno, CA
(559) 291-5737
Clovis Marine

West Marine
3324 W. Shaw Ave., Fresno, CA
(559) 271-1490