Cachuma Lake
Cachuma Lake Recreation Area is a beautiful outdoor destination set amidst oak woodlands in the picturesque Santa Ynez Valley. You will find practically everything you need for a relaxing lakeside getaway in the great outdoors. Although no body-to-water contact is allowed, there are still ample recreation opportunities available around the lake.
Visitors enjoy camping, boating, boat and kayak rentals, fishing, wildlife cruises on the lake, bird watching, hiking, disc golf, photography, picnics, a general store and more.
Cachuma Lake Recreation area includes a swimming pool, the Neal Taylor Nature Center, and wonderful guided nature walks. They also offer a Junior Ranger Program on Saturdays. During the year they provide a variety of activities from Fireside Programs to fishing clinics.
Cachuma Lake is located off scenic Highway 154 in Santa Barbara County, Cachuma Lake is midway between the coast of Santa Barbara, area wineries, and the Danish community of Solvang.
Entrance Fees
Daily Vehicle Entrance: $10
Annual Vehicle Entrance: $100 ($75 for Santa Barbara County residents)
Daily Boat Entrance and Launch: $13 ($125 annual for non-residents, $100 for county residents)
Hikers and Bikers: $5
Canoes or Kayaks Entrance and Launch: $5 ($30 annual)
Dogs Entrance: $3 ($20 annual)
Boating
Cachuma Lake's There is no body-to-water contact allowed, so there is no water skiing or jet skiing. Boats which pass inspections can be launched the same day. A 40 MPH speed limit in the center of the lake means bass fishermen can move quickly from area to area. Canoes and Kayaks are permitted and even have areas set aside exclusively for them.
Marinas
Cachuma Lake has one marina with a variety of fishing and pontoon boats for rent, along with paddleboats, kayaks, and rowboats. There is a good launch ramp. Support services include fuel, a store and snack shop, and boat storage.
Fishing
Cachuma Lake is quickly becoming a leading bass fishing destination. Smallmouth bass are a favorite target of sportsmen as well as largemouth bass and rainbow trout. Bowfishing for carp is allowed here. Cachuma Lake is also home to bluegill, catfish redear sunfish, and crappie. An annual trout fishing derby draws large numbers.
Campgrounds
Cachuma Lake campgrounds are part of the Santa Barbara County Park. They are clustered for the most part on a single peninsula close to the marina, a swimming pool, store, and other support services. Group campsites and yurts are available. There are several good National Forest campgrounds within a few miles of the lake.
Lodging
Cachuma Lake offers several small cabins for rent at reasonable prices. Beyond those, lodging must be found in neighboring communities. Prices are generally high.
Scenery
Cachuma Lake rests in the Santa Ynez Valley between ridges of the Santa Ynez Mountains. Visitors to Cachuma Lake enjoy its rugged beauty, its variety of inlets and coves, and its wild shorelines.
Nearby Communities
Eight miles to the west of Cachuma Lake is the small community of Santa Ynez with restaurants and lodging. Twenty-two miles to the south are Santa Barbara and Goleta. Many visitors to the lake like to take the 12 miles drive to the west to spend a day in the picturesque Danish town of Solvang.
Cachuma Lake Swimming Pools
Location: Cachuma Lake Recreation Area
Open: Memorial Day Weekend and June 12 - Sept. 6 (Closed Mondays and Tuesdays)
Session Hours: 10:00 AM - 4:00 PM (Sessions are 50 minutes)
Cost: $3 per session
Lifeguards on Duty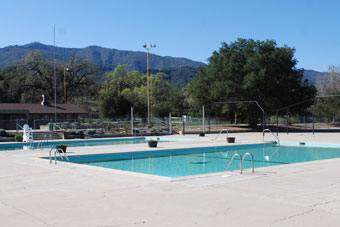 Cachuma Lake Facts

| | |
| --- | --- |
| Lake Size: | 3,100 surface acres |
| Maximum Depth: | 150 feet |
| Length: | 6.5 miles |
| Shoreline: | 42 miles |
| Dam Construction: | 1953 |
| Lake Owner: | Bureau of Reclamation |
| Maximum Lake Elevation: | 751 feet |
| Average High Air Temperatures | |
| spring: | 79 degrees |
| summer: | 93 degrees |
| fall: | 85 degrees |
| winter: | 66 degrees |
| Summer Surface Water Temperature: | 79 degrees |
Cachuma Lake

BOATING

MARINAS

FISHING

CAMPING

LODGING

SCENERY
Cachuma Lake Recreation
The Neal Taylor Nature Center
The Neal Taylor Nature Center, open year-round, has hands-on exhibits for kids and adults, and a gift shop. Admission is free with $10 Park Admission per vehicle. Open Tuesday-Saturday 10 a.m. to 4 p.m. and Sunday 10 a.m. to 2 p.m. Throughout the year various special events are offered. Call (805) 693-0691 for more information or visit The Neal Taylor Nature Center.
Guided Nature Walks at Cachuma Lake
Every Saturday from 10 to 11:30 a.m. Cachuma Lake offers a free guided Nature Walk along the Don Wimpress Nature Trail. Join a Cachuma Lake Park Naturalist or trained Interpretive Guide for an easy-paced ½-mile walk, exploring the oak woodland and chaparral habitats.
Bring water, a hat and a sense of adventure! No pets or strollers please. Limit twenty participants; first come, first served. Private walks can be arranged by calling the Park Naturalist office in advance (805) 688-4515.
Junior Ranger Program
Santa Barbara County Parks Jr. Rangers Program teaches kids about wildlife and how to care for the environment as they earn a badge. Meet at the Neal Taylor Nature Center at Cachuma Lake from 12:30 - 1:30 PM every Saturday, year-round, $3 per child (ages 3 and up). Groups with ten or more participants are asked to call in advance (805) 688-4515.
Fireside Programs
Cachuma Lake Fireside Programs are available Friday and Saturday evenings at 8 p.m. during the summer. The programs are free with a $10 Park Admission per vehicle. Call the Naturalists' Office at (805) 688-4515 for more information or visit Santa Barbara County Parks and click on Cachuma Lake Calendar of Events to see the full line-up.